Packed in a crafty retro radio-like casing that shouldn't trigger any angst from home-design freaks if you leave it on a coffee table or in your bedroom studio, the Yamaha THR10($460 retail/$299 street) is a powerful tool for guitarists who want to practice, compose, or record without dragging a full rig into the house. And if you happen to live with an extremely fussy architect, fashion designer, or art director, just show them the digital THR10 includes "virtual tube illumination" that casts an orange-hued glow behind the speaker grille. Arty types love lighting effects.
Interior decor concerns aside, the 10-watt THR10 offers five amp sounds (Modern, Brit Hi, Lead, Crunch, Clean), bass and acoustic settings, a flat option, eight effects (chorus of top rated chorus pedal, flanger, phaser, tremolo, delay, delay/reverb, spring reverb like top reverb pedals, hall reverb, and if you download the free THR Editor at download.yamaha.com, you also get a compressor and a noise gate), five user-memory buttons, tap tempo (for delays), an onboard chromatic tuner, an aux input (so you can rock out with mp3s or other tracks), and a USB connection. The THR 10 is bundled with Cubase AI software, so if you don't already have a DAW, you're ready to record, edit, and mix tracks. It's also light and portable, and can be run on batteries (eight AA) or AC power. A THR5 is also available, as is a THR Session app for iOS 5.0 or later devices.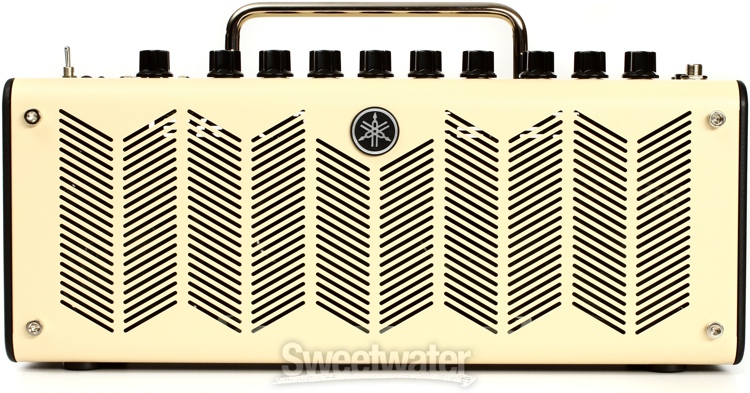 I tested the THR10 with a Gibson Les Paul, a Hanson Chicagoan (with mini humbuckers), a Taylor SolidBody (with two single-coils and a humbucker), and a Fano Alt de Facto JM6 (with P-90s). I did some noodling and low-volume rehearsals/songwriting sessions with the amp and stereo speakers rocking, and I also employed the THR10 as an audio interface for Garage-Band, as well as for the included Cubase AI software.
Tone is obviously subjective–just ask any two guitarists–but I found that all of the THR10's amps sounded pretty inspiring and fun, and if a preset was bugging me for a particular application, the Gain, Bass, Middle, and Treble knobs offered enough control to dial in something appropriate. I also found the amp sounds reacted well with guitar Volume-knob and finger- or pick-attack dynamics. There is a slight edge to the midrange frequencies that might–depending upon your personal taste–be too buzzy for so-called "master" tracks when recording, but this didn't hamper any of my enjoyment while blasting around my room or devising riffs for songs. While I didn't perceive any "3D-style" audio from Yamaha's Extended Stereo Technology, the sound output is clear, articulate, and loud enough to be comfortably heard in a two guitar, bass, and light percussion session.
The THR10 also takes pedals well. I often incorporated various fuzzes, distortions, and wahs into the signal chain without discerning artifacts, compression, overt coloration, or other sonic glitches. In fact, I took to using the THR10 for initial auditions of stompboxes before using them with my normal live-performance and studio rigs.
As an audio interface for DAWs, the THR10 worked flawlessly. Any latency was low enough to not capture my attention at all. The amp tones and effects absolutely gave me the juice to cut tracks that I was happy with, and, in most cases, I used the THR10's sounds for the final mix. In those few instances where I replaced the THR10 tone with a guitar amp plug-in, I still thanked the Yamaha box for inspiring me to play something cool.
There are a lot of so-called practice amps out there that offer gobs of sonic capabilities, as well as home-recording applications. Most all of these products sound very good, so perhaps we should delete all references to "practice amps" and replace the phrase with "micro amp" or "mini amp" or the appellation of your choice. Personally, I'd hate to limit the THR10's options. The box gave me some excellent "conventional" guitar tones, and it let me craft some deliciously off-kilter sounds, too. It provided instant gratification when I wanted to practice at home for a few moments, it delivered some hip recorded tracks, it made the grade for small ensemble sessions, and, in a pinch, I'm sure I could use it onstage via the USB or headphone output. I think I'll call the THR10 my "little monster."
KUDOS Looks retro fabulous. Good sounds. USB Out/Aux In. Bundled with Cubase AI.